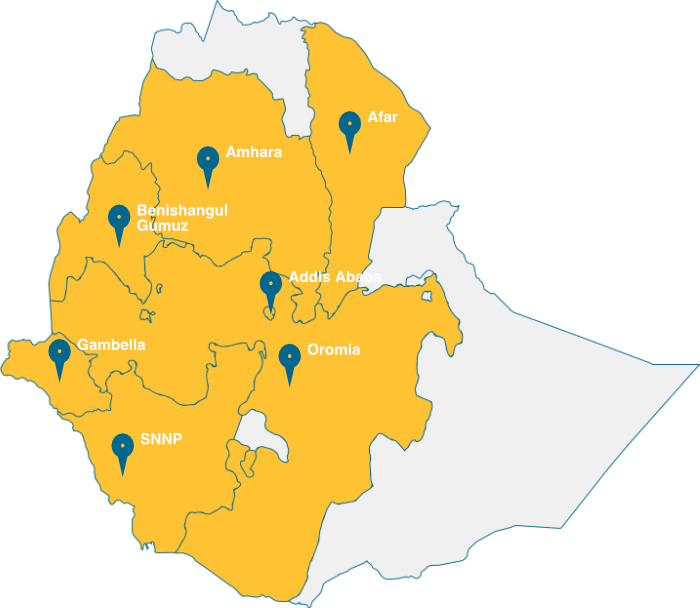 We operate in the following regions in Ethiopia:
Addis Ababa City Administration
Southern Nation Nationalities and Peoples Regional State
Benishangul Gumuz Regional State
Development experience and capabilities of TaYA
We are proud of the outcomes of our projects not only improving youth sexual reproductive health and preventing HIV/AIDS, but also facilitating the active involvement of the youth in sustainable development. Thus, its core activities focused on youth empowerment resulting in strongly mobilized activism of young women and men.
We have a proven track record of successful project implementation and management skills both in terms of its physical and financial aspects. It has a well-articulated strategic plan, human resource and administration manual and staff training policy. Currently, it is actively participating in capacitating organizations through organizing training/workshop programs and providing mentoring services.  It has built a strong reputation in promoting adolescent and sexual reproductive health issues at country level which has been recognized by relevant government bodies. It has actively been engaging in various policy and strategy development focusing on youth development at the national and regional level. 
The finance and goods management are carried out based on the standardized financial manual of the organization which is in accordance with the professionally acceptable Peachtree computerized accounting system, 2010 version. The finance department has separate duties with cross-checking check-and-balance controlling mechanism, dully recognized external audit firms conduct both fixed asset inventory and financial auditing on annual basis.